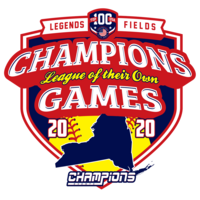 Champions "League of their Own" Games
July 9-12, 2020 Oswego, New York
Messages
Coaches,
As stated in our email last week, Champions Nationals will run in 202 from July 9-12. We have released Event Safety Rules and will continue to update you and your staff regularly as we are less than 50 days away from the kick off. A few items to note:
- Final payments must be received no later than June 1st to guarantee your spot.
- Final Payment deadline also gurantees Player Rings.
- Opening Event will not be held at Apex due to uncertanty of that facility.
- Opening Event will be held at Legends Fields, more infomation o follow.
- TOP 100 SPORTS will be onsite at Legends Fields Thursday June 9th at 9am
- Concessions and Vendors will be open with modified spacing,
- Parking lot has been enlarged and we have secured another large parking lot
- Games on Friday and Saturday will consist od double headers.
- Game slots will be spaced out to allow distancing. All fields have lights.
For additional information go to:
www.championsevents.org/covid19
Attachment
5/21/2020 9:57 AM
Description
CHAMPIONS NATIONALS - Eastern Nationals Qualifier - Open Invite to 12U /14U/16U/18U Teams. The "C'NATS" will send (4) age group Champions to Nationals in 2021! Entry Fee includes 5 Games - seeded Single Elimination Playoffs, Opening Event, Rings to all Players. Additional amenities included; Insurance - Game Balls - Awards - Best of the Best Umpires! Vendors onsite, great concessions. This is a STAY TO PLAY EVENT, All Hotels provide a "Low Room Rate Guarantee".
Tournament
All teams
Girls: 18U, 16U, 14U, 12U
Ability: Competitive
entry fee
Location
Legends Fields
99 Churchill Road
Oswego

,
NY
,

13126
Directions
General Information
COACHES ARE REQUIRED TO READ ALL OF THE FOLLOWING IMPORTANT INFORMATION
Follow the STEPS Below to be eligible to play in any Champions Events tournament or TOP100 Sports Evaluation. Please take the time to read the information about our events and our tournament locations.
STEP 1: REGISTRATION AND PAYMENT
Coaches are required to set up a Team Account to Register for one or multiple Tournaments. 2020 Champions Events Per Team Entry Fee will vary depending on the Season and Location. Tournaments include:
5 game minimum (weather permitting)
Game balls, Umpire Fees, Awards, Tournament Central, Vendor Village
ONLY full payment will secure your teams spot in the tournament.
Champions Events Payment and Refund policy Located in the Footer of this website.
STEP 2: CHAMPIONS EVENTS HOTEL POLICY
All 2020 Champions Events Tournaments are Stay to Play. Teams, traveling in from 75+ miles are required a minimum one overnight stay and are required to reserve your teams hotel room blocks through our Tournament Hotel Service Provider, SAREC SPORTS TRAVEL, in order to participate in our 2020 tournaments.
In order to receive a tournament schedule or a schedule request for your particular event(s), you are required to use our Hotel Service Provider. Sarec Sports Travel will do all of the work for you, in finding you the best available accommodations for your teams hotel needs. Teams not using our hotel provider will not be scheduled to compete.
Please contact Sarec Sports Travel at reserve@sarecsportstravel.com or call (888) 318-1376 Monday through Friday 9am to 6pm EST and one of our Sports Travel Managers will be happy to assist with your Hotel questions.
STEP 3: REQUIRED PAPERWORK
Teams are REQUIRED to submit a mandatory Team Roster at this website two weeks prior to the date of the tournament. Teams must be USA Sotball Registered. Adjustments can be made at Check In.
STEP 4: SCHEDULING
Teams MUST be available to play for all scheduled time slots beginning on the first day of the scheduled tournament start date. Teams may be required to play at multiple sites in a given event, however we do create Age Group PODS.
STEP 5: ARRIVAL
Coaches are required to check-in their team 60 minutes prior to their first game
---
All event related questions should be directed to Justin Arsenault at info@championsevents.org or call 315-430-0154.
YOUTH SOFTBALL EVENT, TOURNAMENT AND LEAGUE DIRECTORY
Market your event by submitting it to our directory.
Submit Event